All six rooms at Anstey Grove Barn are available for bed and breakfast or self-catering. They are all en-suite with modern, and well cared-for, facilities. We only use the best quality bed linen and have taken great care to furnish the rooms with individual and often antique items sourced from local auctions so that each one has the kind of character that complements the barn's surroundings.

Each room has a flat-screen TV with freeview channels, as well as a hairdryer.
Tea, coffee and water are all available in the main living area of the barn.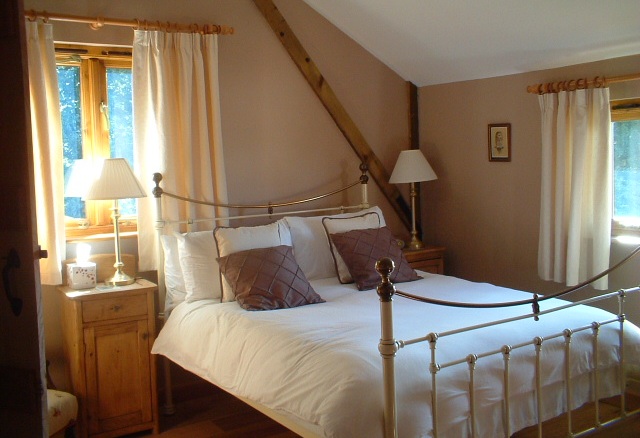 The rooms
In the not too distant past Anstey Grove Barn was at the heart of a pig farm, so our rooms are – naturally – named after some of the more interesting breeds:
Old Yorkshire
– the master room
With a view across our fields and down into the valley in which the village of Anstey nestles, the Master Room has a four-poster bed; a free-standing bath and walk-in shower on a polychrome floor, and a separate WC, as well as a flat-screen television, and locally-sourced furniture.
Saddleback
Saddleback has a double bed and has a view across our herb garden.
Gloucester Old Spot
A twin-room, the Gloucester Old Spot overlooks our tranquil herb garden, and offers a lovely view across the fields to the village of Anstey.
Large White
This room has a double bed and, as the name suggests, is kitted out in white furniture.
Dorsetblack
A twin room with a view of the woods, and unique pieces of antique furniture.
Tamworth
Located downstairs the Tamworth room has a double bed and looks out onto our herb garden and has views of the wood.
Find out more about Anstey Grove Barn
Self-catering accommodation in Hertfordshire, near Cambridge, Hertford
and North London >
More about our accommodation, convenient for Cambridge, Harlow, Stevenage,
Royston, Buntingford, Ware, Duxford, Stansted, Bishops Stortford >
Bed and Breakfast in Hertfordshire, available for short breaks, longer stays
or business >

var _gaq = _gaq || []; _gaq.push(['_setAccount', 'UA-20908826-1']); _gaq.push(['_trackPageview']);
(function() { var ga = document.createElement('script'); ga.type = 'text/javascript'; ga.async = true; ga.src = ('https:' == document.location.protocol ? 'https://ssl' : 'http://www') + '.google-analytics.com/ga.js'; var s = document.getElementsByTagName('script')[0]; s.parentNode.insertBefore(ga, s); })();